I've been a social butterfly recently so I have quite a few posts to make but I'm going to space them out by a few days as to not over-whelm anyone! The past few days have been AMAZING
On Friday, since I had no work,
Amelie
came down on Friday to chill with me!
Outfit for the day; well coat. I love it so much, it makes me feel so fancy!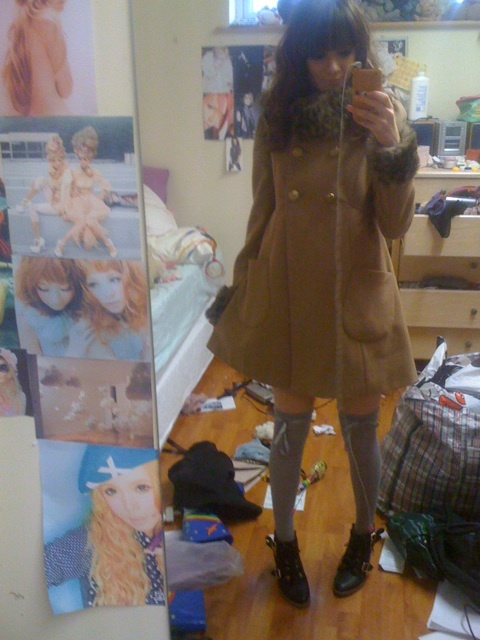 I turned my room upside down looking for one of my grey socks, hence why my room looks so messy. I didn't find it D:
We spent the day up in London with Amz's friend
Chriss
who I met previously at Kpop night.
It was a very successful day full of listening to Swedish rap in "the corner" (i shall talk about this another time haha), eating, doing Purikura in Chinatown and slobbing in Starbucks while playing Tap Tap Revenge
I love how the machine makes me look tan, even though I'm super pale haha
Spider man just crept into our puri for some reason...
Chriss's hair is so awesome *_*
We must have been in Starbucks for 2 1/2 hours or so just chatting about random shite. As much as I love having big meet-ups with people, its nice to just sit down and chat and really get to know people better. ~
In the evening Amz came back to mine and we pedo-beared over Teen Top for the rest of the evening.
On another note, you may have noticed I now have a full fringe (bangs) and shorter hair! I got my hair cut last Wednesday and I am having it coloured tomorrow! exciting times, I shall post the results for that soon!
I'll write another entry about my Saturday, I'll leave that for a few days, it's gonna be a longun'
Have a song.
Innocence- Nero